Let me start this piece by saying that any shortlist of albums compiled by a single person, however long, will be flawed and this is no exception.
I am fortunate that I get to spend an inordinate amount of time listening to music but I still like what I like and dislike what I dislike so there are entire genres of music - entire worlds - that I cannot proffer any input on. For this, I apologise in advance.
What this list is then is a selection of fifty albums that, as well as being fine pieces of music in their own right, offer the scope to jump off into some different genres, styles and thinking. 50 is not a number that was chosen by chance. 10 is far too few, as is 20. 100 on the other hand is a marathon, so 50 is the final number, weighted to more recent releases. The list is presented chronologically and is not intended to be exhaustive. It deliberately ignores the headline acts of various periods; I don't have it in for them, I simply figured you'd already probably have heard of the Beatles or Peter Gabriel by now. Likewise, this is not an exercise in obscurity - all these albums have managed to achieve a measure of commercial success and it is highly likely you'll have heard of quite a few of them already. Given that they cumulatively represent about two full days of listening, I hope there should be something of interest for almost everyone.
The Sixties
Howlin' Wolf - Howlin' Wolf. The second Howlin' Wolf album (often known as the Rockin' chair album) is a collection of singles from the previous four years and becomes a sort of potted greatest hits as a result. It highlights Wolf at his best and is a great listen.
Magic Sam - West Side Soul. This is the seminal Chicago Blues Album and it sounds as fresh as the day it was made. There have been more versions of Sweet Home Chicago than I can count but this is the best.
Love - Forever Changes. Barely made a ripple when it came out but now regarded as the finest work of the Summer of Love. An exceptionally complex and emotive piece of work that has barely aged.
Silver Apples - Silver Apples. Judged objectively, not a great record. It is though, the first electronic dance album ever recorded and sounds quite extraordinary for something over 50 years old.
Clarence Carter - This is Clarence Carter. A truly outstanding musician, this early work by Carter is presented without artifice or over production and is one of the most unapologetically joyous records going.
The Seventies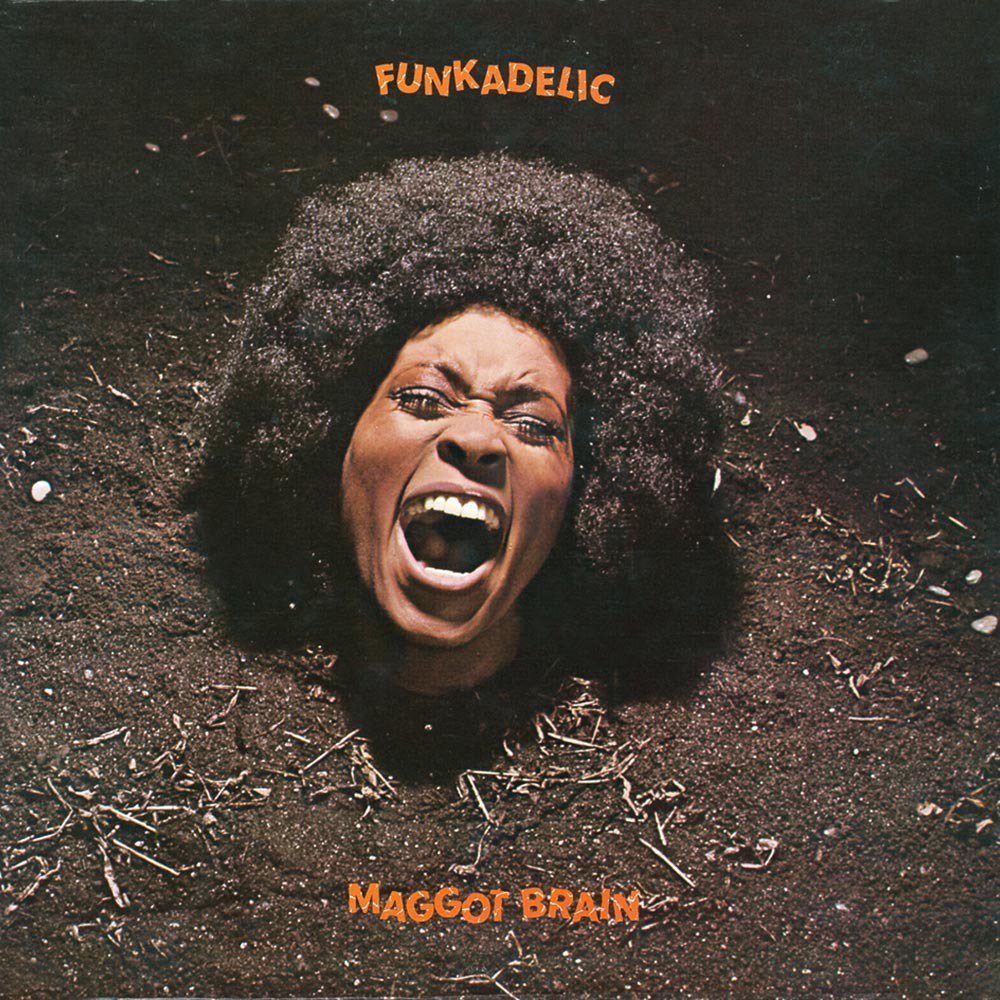 Funkadelic - Maggot Brain. A monumental work of ambition, texture and sheer energy that sounds incredibly of the moment for something closing in on its 50th birthday.
Terry Callier - What Color is Love. Proud owner of possibly the most seventies album cover ever created, this work defies easy categorisation and achieved little on release. It has come to be regarded as a masterpiece that blends myriad influences into something deeply personal.
Little Feat - Feats Don't Fail Me Now. The best album by the best Southern Rock band (sorry Skynrd fans, search your feelings, you know it to be true), this album gets more done in 34 minutes than some groups do in an entire discography.
Suicide - Suicide. The first time that punk met electro and created a brash, raucous powerhouse of a record whose influences can still be heard in material to this day. Simply doesn't work played quietly.
Bob Seger - Stranger in Town. An album that hits the ground running at 100mph with the opener Hollywood Nights and barely lets up from there. A perfect 70s time capsule of a record that doesn't have a duff track on it.
Kraftwerk - The Man Machine. Autobahn is more famous and Trans Europe Express is more influential but to actually sit down to listen to, this is the best Kraftwerk album of the lot and also has the benefit of the more recent '3D' remaster too.
Marianne Faithful - Broken English. Faithful had spent some time homeless in the seventies and untreated bronchitis had drastically changed her voice from how she'd sounded at the start of her career by the time she recorded this. The result? Against all logic, it's the best album she ever recorded and has all sorts of ideas that she would expand on in the eighties.
Lowell George - Thanks I'll Eat it Here. George was in poor health by the time he recorded this which is why many tracks are covers rather than new material. This doesn't prevent it from being an absolute joy to listen to - an exercise in consummate musicianship.
The Eighties
Pete Shelley - Homosapien. Former Buzzcocks frontman Shelley went full electronic for his solo album but kept some of the punk sensibilities of his previous work and the result is a tight, engaging record that was packed with influences that would be heard for the rest of the decade and beyond.
Bronski Beat - The Age of Consent. Very few albums balance a serious message with effortless, danceable brilliance but this is one of the very best of the breed.
Rosanne Cash - Rhythm & Romance. This is an album of full on eighties ballads dripping full on eighties production recorded by Johnny Cash's daughter. Roll that around your head for a moment. If you can reconcile that, move on to considering that it is quite, quite brilliant.
The Chameleons - Strange Times. This should have been one of the biggest albums of the eighties - a virtuoso collection of outstanding songs performed by brilliant musicians. Instead, it never quite scaled the heights it should have done. Utterly brilliant though.
Talk Talk - The Colour of Spring. The best album of the 1980s. Nothing more needs to be said.
Joe Satriani - Surfing with the Alien. An entirely instrumental monument to the insane guitar skills of Satriani. In theory, it should sound like showboating but he's that good that it just sounds brilliant instead.
Cowboy Junkies - The Trinity Session. One band, one microphone, one DAT machine, one evening. The result is one of the most spellbinding albums of the decade. If your soul is not in a tiny way moved by the opening Mining for Gold, it is possible you have no soul to move.
Dead Can Dance - The Serpent's Egg. Is it goth? Is it world music? Dead Can Dance straddled both (and more) genres but this is the one that really struck home for them. Worth it for the opening track alone.
Beastie Boys - Paul's Boutique. When the world thinks you are a novelty act, what better way to demonstrate they're entirely wrong than by releasing a masterpiece?
The Nineties
The Shamen - En Tact v1.5. Yes, that Shamen, the ones who also did Ebeneezer Goode. Before that though, they assembled the cream of British dance music; Paul Oakenfold, William Orbit, Graham Massey of Goldfrapp, the Hartnoll brothers of Orbital fame to name just some, to make this. Also notable as the only record I know of that lists a 'digitised potato peeler' as being used in the mastering in the album notes.
Tori Amos - Little Earthquakes. One of the finest debut albums ever recorded. Raw, angry and at times hauntingly beautiful, Amos left nothing of herself off the record and created a template that many have copied but almost none have equalled.
Ali Farka Touré and Ry Cooder - Talking Timbuktu. An album that was instrumental in bringing West African music to a wider audience, an immaculate set that showcases the outlandish talents of Touré - he plays seven instruments and sings in eleven languages on this - and a great cast of supporting musicians.
Soul Coughing - Ruby Vroom. It is rare for a band to sound like nothing that came before or since but Soul Coughing managed it. This is an astonishing blend of influences that somehow hangs together perfectly. Screenwiter's Blues is one of the best tracks of the decade.
Dr Octagon - Dr Octagonocologyst. The 'time travelling, gynaecologist alien' alias of Kool Keith of Ultramagnetic MCs, this was the perfect antidote to the gangsterisation of hip hop. Wildly inventive, technically accomplished and superbly produced, it's also enormous fun.
The Egg - Albumen. The debut effort from The Egg, Albumen is hard to classify - although it is dangerously close to having a Ron Burgundyesque jazz flute in there at one point - this is a shifting, varied but seriously funky collection of tracks.
Bentley Rhythm Ace - Bentley Rhythm Ace. Big beat wasn't around for very long and for many people, the list of artists involved begins and ends with Fatboy Slim but one of his Skint label mates was able to make an album that was so wilfully peculiar it transcended the movement altogether. Featuring tracks such as Midlander (there can only be one…) and Ragtopskodacarchase and littered with children's TV samples, it's a 68 minute riot.
Boards of Canada -Music Has the Right to Children. The first full length release from Boards of Canada, this is one of the most extraordinarily influential electronic albums ever recorded. Even twenty years after its release, it still sounds pretty cutting edge.
Death in Vegas - The Contino Sessions. I remember being vaguely disappointed by this when it came out but time has been very kind to it, largely because so many ideas it features have become rather more familiar since then. The crowning glory on it is Aisha that deploys Iggy Pop to full effect to create a monumental stomper of a track.
The Noughties
Ian Brown - Music of the Spheres. Ian Brown's solo output is hugely variable but Music of the Spheres is the (solo) album where his talents come together into a cohesive and rather lovely whole. Anchored by the monumental opener F.E.A.R, the album combines his skill for crafting hooks and stitching together something that tells a story.
DJ Shadow - The Private Press. When your back catalogue includes Endtroducing, it can be hard for people to judge your other offerings on their own merits but if you do, The Private Press is an outstanding piece of work. Mixing trademark samples with some genuine songcraft, the result is an album that flows beautifully and enthrals while it does so.
The Cinematic Orchestra - Every Day. An absolutely gobsmacking record that mixed musicianship, some inspired guests and a tiny twist of electronics to create a modern masterpiece. Unhurried, unforced and utterly immersive, I have listened to Burn Out in excess of 5,000 times for test work and I still don't hate it and that's quite the feat.
Cassius - Au Rêve. An extraordinary record that is the finest flowing of French Electronica - a genre that includes several masterpieces - and something that transcends it at the same time. Possessed of one of the greatest dance tracks of all time in The Sound of Violence and a huge melting pot of other styles, it is a modern masterpiece.
Hybrid - Morning Sci-Fi. Hybrid's debut Wide Angle was acclaimed and influential but the follow up is arguably the better album, even if it lacked the same quality of standout tracks. Immaculately produced, this is an album that hovers on the demarcation line between 'dance' and 'electronic' music without doing a disservice to either.
Evil Nine - You Can be Special Too. As a statement of intent, there are few better opening tracks than Crooked which is boosted by a stellar turn from Aesop Rock. From there, the beats keep coming but delivered in a way that crosses genres in a way that, in lesser hands, could be messy but here sounds effortlessly right.
UNKLE - War Stories. Another group who released a debut so good that people ignored what happened after but War Stories is UNKLE's unsung hero of a record. Making great use of guest vocalists but ensuring that there is an underlying theme to the album too, this is probably my favourite album of the decade.
Foals - Antidotes. Foals have become A Big Deal over the years but the balance and sheer musical chops of their debut album still takes some beating. Fundamentally good fun but with just enough of an edge to make it interesting.
Telefon Tel Aviv - Immolate Yourself. A group that carved out a niche sound all its own, taking some of the darkness and atmosphere of IDM but enlivening it and creating something that was ultimately more euphoric. Not one to be dipped into, this one needs to be played start to finish.
The Tens
Junip - Fields. Jose Gonzalez had founded Junip before his solo career exploded but he returned to it and produced his best work. At once timeless and contemporary, Fields combines fine songwriting, excellent musicianship and sensitive production values to great effect
Bobby Womack - The Bravest Man in the Universe. Tempted out of retirement by Damon Albarn of all people, Womack, puts down an outstanding performance, not shying away from age related limitations and bolstered by an outstanding supporting production. If you're going to put out one last album, you might as well make it a great one.
Calexico - Algiers. Calexico have been ploughing their own particular furrow for years but a move to New Orleans to record Algiers created a work that takes everything they were already good at and adds a focus and narrative that makes this more of an experience.
Mark Lanegan Band - Blues Funeral. Always supernaturally busy, Lanegan took time out from collaborating with people to smash out an absolute powerhouse of a record that shifts from thunderous rock to blues to disco (yes, disco) in a way that just works, anchored by his sandpapery vocals.
John Grant - Pale Green Ghosts. An unlikely combination of the former Czars front man and Icelandic electronic music royalty conspire to produce a masterpiece. This is an album that manages to be caustic, brooding, angry, light hearted and joyous without sounding contradictory. As a bonus, the live version recorded with orchestral backing is also sensational.
Brandon Flowers - The Desired Effect. So shamelessly evocative of the 1980's that it could just have easily have been put in the list there, even to the extent of sampling Smalltown Boy from The Age of Consent, what makes this more than a pastiche is the sheer musical chops of the Killers frontman. An unadulterated joy.
Public Service Broadcasting - The Race for Space. The idea of the concept album has largely collapsed under the weight of its own naffness but PSB manages to rescue the idea with an album that manages to work with the narrative it is built around without constraining the music.
The Comet is Coming - Channel the Spirits. Describing The Comet is Coming as jazz does both them and jazz a disservice. The best I can do is that if (if), the long promised live action version of Cowboy Bebop ever does get made, the soundtrack is here ready and waiting for it.
Twin Shadow - Caer. Another album that lovingly mines the eighties for content and gets away with it because the man doing the mining is good enough to make the resulting excavations work in their own right. Interestingly, this is a rare modern example of an album with different tracklists for the vinyl and digital releases just to annoy the completionists.
One True Pairing - One True Pairing. The breakup of Wild Beasts - a band that narrowly missed the list - has allowed some exceptional musicians to go their own way and Tom Flemming took the opportunity to produce this remarkably candid effort as his first attempt. Angry, emotive but beautiful.
So there you have it. Don't forget to add your suggestions for things you feel I've cruelly ignored in the comments. Happy listening.
To comment on what you've read here, click the Discussion tab and post a reply.