A fresh title for summer.... possibly a little gloomy.... A New Day
---
I have been grumbling to myself lately, a little let down with the current crop of games. I have plenty of credit on my gamestation card, but just am not ready to part with my cash for another gaming sequel on annual release that is failing to make much of a distinction from its predecessor. Perhaps a little late, I have turned to XBLA for a game fix...and was surprised by what I found.
I chose to download
Episode 1 of The Walking Dead - A New Day
.
Made by Telltale games, this is a unusual take on a zombie apocalypse. It is remarkably different from the likes of the FPS Left 4 Dead (but in a good way). The Walking Dead was a comic book first, a successful six part TV series recently shown on Channel 5 second, and is now a computer game. A New Day is the first of five episodes to the game, each being made available on XBLA in sequence. They do not follow the same story as the TV show, but do contain some of the locations and characters.
In one way the game is a very simple point and click adventure, playing the character Lee as he tries to survive a zombie uprising. The controls are simple - left stick to move, with the right stick to look at objects to interact. In a far more remarkable way, the game tells an good story in an immersive way with an interactive element where the game adapts to the choices you make. This affects how characters react to you or which characters live and die (the the full scope of this is yet to be revealed).
Your story starts in the back of a police car. You are in handcuffs and on your way to prison when you begin making dialogue of your choosing with the policeman driver. You learn that you are convicted of murder and notice police cars and helicopters responding to a crime in the direction from which you came. This is the first hint of things to come.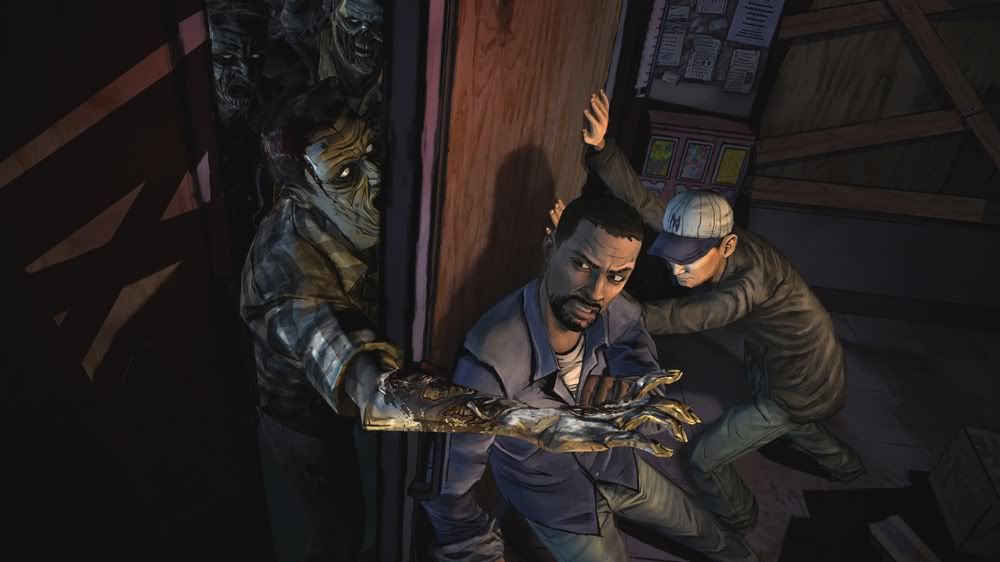 Graphically the game is not striving to be realistic, but instead selects visually impressive comic strip visuals for the characters and surroundings. This is very appealing, and sets it apart from a raft of other games out there.
Without spoiling the plot, your car crashes and you escape but need to get out of your handcuffs. You approach the cop who is now lying unconscious outside the car to get the keys, but he wakes up - as a zombie. You quickly drag yourself back to the car where you pick up a single shotgun cartridge. You load it into the shotgun, but you fumble and drop it as the zombie nears. Second time lucky. One clean shot and his head pops off. The game has a clever way to ratchet up the tension, when your FPS instinct would be to enter an entire clip into the target.
The camera uses a cinematic angle and on occasions this does feel a little awkward and you cannot see everything that you would like. On the whole this does not spoil the overall impact of the game, but at the times some of the movement can feel a little clumsy where the rest of the game is very impressive.
The game's effort is put into exploring the characters' stories and their individual (and collective) fight for survival. At times you need to be careful with how you interact with characters and how much of your background story you reveal – you are after all a convicted murderer. How much and what you decide to tell people is up to you, but it can be easy to be caught out lying, and some people may already know about your shady past. This is very much about the carefully crafted story and characters, and much less about a FPS zombie shooter.
Some of the choices felt like they were being thrown at you fast, not giving you much thought about your response - how much do the characters already know, what have you told them before, will you be honest or lie, or will you be slow to save someone's life as they know too much? Each of these can have consequences on the follow on dialogue and narrative. Sometimes you only have a few seconds to make a choice, and I did find that on a couple of occasions making decisions that I later regretted. Sometimes it can feel like whatever choice you make - there does not really seem to be a 'right' answer, but I guess that is just the situation that the game puts you in.
The actual game play is at best basic and not very challenging - but that is not what this game is about. This first episode is all about developing characters, a strong narrative and stunning comic like visuals - that is what has given the comics, TV shows and now the game a good reception. The characters are convincing, some a lot more likeable than others – pulling this off is no easy feat. Developing an emotional attachment to particular characters helps you weigh up some of the choices that you will need to make.
The first episode manages to end with a bit of a sigh of relief that you survived and that everything will be okay – until the lights go out. You are shown a brief preview of the next episode "Starved for Help" (nice)... to be continued...
After the credits role, you are also shown a recap of some of the choices that you made, and it compares them with the rest of the community that have played the game, in a similar way to LA Noir. This is an interesting addition, and just makes you reflect on how you approached the game... and add to the replayability of the game as it made me want to go back and make a couple of alternative choices.
On the whole I'm really surprised by the quality of this little title on XBLA. For 400 MSP it was a reasonable price, but you can probably get through this episode in a few hours in a single sitting. Compared to a night at the cinema or a video rental, this still seems like money well spent on a game that feels quite distinctive. I am going to keep my eye out for future episodes in this series, and also for other gems that have already been released on XBLA. Oh... if you are looking for a fast paced zombie shooter, you will need to look elsewhere.
Comments